Support the Marine
Originally as part of our 125th anniversary celebrations in 2019, we're still looking for supporters of the Marine to do something amazing and adopt one of the years from our history for £125. We're carrying on the fundraising in to 2020.
It could be the year of your birth or a special historic event.
Year after year we bring cultural and social events to Lyme Regis – films, music, screenings, comedy, and community gatherings.
We're here thanks to the support of you – whether you come to see a show, become a member, or volunteer. It all helps.
By Adopting A Year, you will help us secure a legacy for the next 125 years to help us continue to deliver a rich programme for the whole community. You'll become part of our future with your name on our wall!
Phone 01297 442138 or click on the button below to Adopt A Year
You'll get some amazing things
Named on a plaque on our wall
A certificate of your adopted year
An anniversary enamel badge
Your name on our website
A thank you on social media
An invite to a party to unveil the plaque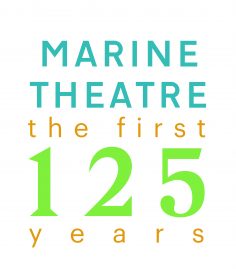 Thank-you to these generous folk who have 'Adopted A Year'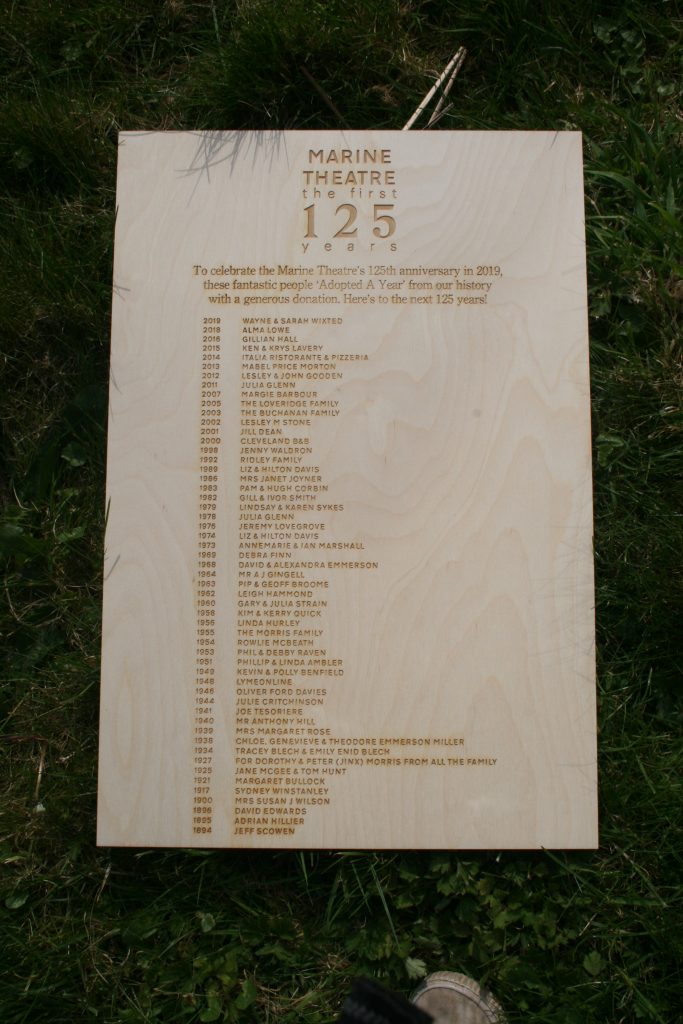 | | |
| --- | --- |
| 2019 | WAYNE & SARAH WIXTED |
| 2018 | ALMA LOWE |
| 2016 | GILLIAN HALL |
| 2015 | KEN & KRYS LAVERY |
| 2014 | ITALIA RISTORANTE & PIZZERIA |
| 2013 | MABEL PRICE MORTON |
| 2012 | LESLEY AND JOHN GOODEN |
| 2011 | JULIA GLENN |
| 2007 | MARGIE BARBOUR |
| 2005 | THE LOVERIDGE FAMILY |
| 2003 | THE BUCHANAN FAMILY |
| 2002 | LESLEY M STONE |
| 2001 | JILL DEAN |
| 2000 | CLEVELAND B&B |
| 1998 | JENNY WALDRON |
| 1992 | RIDLEY FAMILY |
| 1989 | LIZ & HILTON DAVIS |
| 1986 | MRS JANET JOYNER |
| 1983 | PAM & HUGH CORBIN |
| 1982 | GILL & IVOR SMITH |
| 1979 | LINDSAY & KAREN SYKES |
| 1978 | JULIA GLENN |
| 1976 | JEREMY LOVEGROVE |
| 1974 | LIZ & HILTON DAVIS |
| 1973 | ANNEMARIE & IAN MARSHALL |
| 1969 | DEBRA FINN |
| 1968 | DAVID & ALEXANDRA EMMERSON |
| 1964 | MR A J GINGELL |
| 1963 | PIP & GEOFF BROOME |
| 1962 | LEIGH HAMMOND |
| 1960 | GARY & JULIA STRAIN |
| 1958 | KIM & KERRY QUICK |
| 1956 | LINDA HURLEY |
| 1955 | THE MORRIS FAMILY |
| 1954 | ROWLIE MCBEATH |
| 1953 | PHIL AND DEBBY RAVEN |
| 1951 | PHILLIP & LINDA AMBLER |
| 1949 | KEVIN & POLLY BENFIELD |
| 1948 | LYMEONLINE |
| 1946 | OLIVER FORD DAVIES |
| 1944 | JULIE CRITCHINSON |
| 1941 | JOE TESORIERE |
| 1940 | MR ANTHONY HILL |
| 1939 | MRS MARGARET ROSE |
| 1938 | CHLOE, GENEVIEVE & THEODORE EMMERSON MILLER |
| 1934 | TRACEY BLECH & EMILY ENID BLECH |
| 1927 | FOR DOROTHY AND PETER (JINX) MORRIS FROM ALL THE FAMILY |
| 1925 | JANE MCGEE & TOM HUNT |
| 1921 | MARGARET BULLOCK |
| 1917 | SYDNEY WINSTANLEY |
| 1900 | MRS SUSAN J WILSON |
| 1896 | DAVID EDWARDS |
| 1895 | ADRIAN HILLIER |
| 1894 | JEFF SCOWEN |