If you hold your own public facing gigs, the Marine is a great venue with various adaptable spaces. Several outside organisations hire our venue for gigs and festivals – Ammonite film, Lyme Folk Weekend, Jazz Jurassica, and Lyme Regis Fossil Festival are examples.
There is a main auditorium, two bars, two dressing rooms, and some outside space.
Technical Specifications
LOADING IN/OUT
Access to venue by a side road 'Long Entry'
*Full details in map Appendix 1
Entry is down seven steps at the rear of the venue.
Outer double door entry
Entry to the stage is by a single inner door entry.
2 Dressing rooms Stage Left. One with a toilet
Access to the main Auditorium through doors SR & SL
FRONT OF HOUSE
Main Sound System
1x Yamaha LS9-16 desk c/w stage box
2x d&b Q7 speakers
4x d&b Q-SUB speakers
2x d&b E12D speakers
1x d&b D12 amplifier
1x d&b D6 amplifier
2x d&b EPAC amplifiers
Secondary Sound System
Mixing Desk: Yamaha MG116CX. 16 (MG166CX/MG166C: 10) mic/line
Inputs or up to four stereo inputs.' On Board Effects. 4 Aux sends, headphone output.
Stage Box A total of 15 balanced XLR tie lines to downstage right truss base
Amplifier Electrovision ELV250. 250 watt – 2 channel.
Speaker 2 – 400w Peavy speakers Wall Mounted approximately 1.5 metres in front of forestage edge)
MICROPHONES
5 x SM58s
1 x PGA58
1 x Sanyo MP303
1 – Sub zero SZW -50 System (2 Lapel Mikes, 2 Head Mikes)
1 x Shure BLX4 – K3E System with SM58 Radio Microphone
2 x WBP 20 UHF Base Stations
1 x WBP Lapel Mike
1 x JB Wmic – 10 Radio Microphone
GENERAL SOUND EQUIPMENT
12 – 10 mtr 3 Pin XLR
3 – 5 mtr 3 Pin XLR
2 – 1 mtr short connectors 3 Pin XLR
4 – Female to Female XLR Connectors
3 – K&M Boom Microphone Stands
1 – K&M One hand clutch Microphone stand
1 – K&M Upright Microphone Stand
5 – DI Boxes (4 – Orchid Electronics, 1 – Berhringer Ultra – DI)
1 x Pioneer PD7300 CD Player
LIGHTING CONTROL
Zero 88 Jester 48MLprogrammable desk. 48 channels.
Zero 88 dimmer packs (2×24) Chilli, 31 channels wired. Racks installed SR wing.
LIGHTING ACCESSORIES
House Lights 4 stage push button dimming (off 1-2 and full) from DSR & LX box
Mirror Ball 300mm Mirror Ball with 10-speed control, controlled in LX box
Two Patt 36 spots focused on Ball, controlled from DSR
Fairy Lights rigged as a secondary House lighting system. Controlled by a Phillips Dim 1 fader from the Tech booth.
1x Swisson XSP-5B DMX splitter. 5 ways; (5 pin). Located onstage SR by the Chilli Dimmers
2x 5 pin DMX to 3 pins XLR Convertor
2x 3 pin XLR to 5-pin DMX convertor
4x 10 Mtr DMX Cable (5 pin)
2x 5 Mtr DMX Cable(5 Pin)
9x Grelcoes
7x 10 mtr lengths 15amp round pin TRS
4x 6 mtr lengths 15amp round pin TRS
2x 2 mtr lengths 15amp round pin TRS
PROJECTION
Projector – Canon WUX 6010. 6200 Lumens. Ceiling Mounted, centre of Auditorium. 6 Metres from Screen.
Screen: hung midstage, 5.7 metre width, full drop Motorised, 3 metre (control switch SL wing)
HDMI input from LX box
HDMI input from SR
VGA convertors available. Male & Female
2 x HDMI to Thunderbolt Convertors available
1- HDMI Extender (3 Metre)
LANTERNS
| | | | | |
| --- | --- | --- | --- | --- |
| Type | Make/Model | Number | B/D | Gel Frames |
| 650w | | | | |
| Fresnel | Colourtran Lito | 13 | No | Yes |
| | Selecon Acclaim | 3 | No | Yes |
| | CCT Minuette | 2 | No | Yes |
| 1KW PC | CCT Starlette | 6 | No | Yes |
| Profiles | 500w Strand Minim | 1 | N/A | Yes |
| | 650w Thomas* | 3 | N/A | No |
| Parcans | Pulse / CP62 | 8 | No | |
| | | | | |
Arc Bar3 LED lighting fixtures 4 – Daisy chained together RGB.
(Ch. 35-38)
STAGE RIG/ AUDITORIUM RIG
3 Bars of Lighting onstage
Front. Mid. Rear
3 Off stage channels, situated Mid Auditorium. Paired on stage as per map 2.
Situated Mid stage Centre
2 fly bars on stage. 1 Upstage, one downstage
Auditorium rig is a plain Scaffolding rig, no IWB's apart from the three already stated. Forming a rectangle with a midstage cross beam.
* See Appendix map 2
(Tech sheet MT001) Grid Plan
* See Appendix map 3
(Tech sheet MT002) Grid Plan & Circuit's
Multiple 13amp sockets situated on all sections of the stage & front of house
Numerous 13 amp 4 way gang extensions available
* Normally the theatre has a Generic rig set. This may change due to need. If you require a pre rig, please contact us to see if it is possible.
* The Marine Theatre stocks very little colour, it is best if you bring your own.
STAGE
STAGE DIMENSIONS
| | |
| --- | --- |
| APRON SL TO SR | 6 METRES 75 CM |
| APRON FRONT TO PROS Line | 1 METRE 45 CM |
| STAGE LEFT TO STAGE RIGHT | 7 METRES 15 CM |
| UP STAGE TO DOWN STAGE PROS LINE | 4 METRES 40 CM |
| UPSTAGE ALCOVE | 90CM* |
| STAGE RIGHT WING | 1 METRE 50 CM* |
| STAGE LEFT WING | 1 METRE 5 CM* |
| HEIGHT TO STAGE RIG | 3 METRES 25CM |
| AUDITORIUM HEIGHT TO FOH BAR | 4 METRES 15CM |
The stage is dressed with SL/SR blacks, allowing entrances & exits both up & down stage.
The back wall has a set of Blacks that is drawn on tabs to cover the whole wall
There are a set of Blacks Midstage (2.6 metre from Pros), these are on tabs, and can be drawn closed at your need, Pulley mid SR.
There is a set of heavy blue brocaded House tabs that can be closed by use of a manual pulley DSR
Entrance to the stage can be made by doors, SL, SR & USC (USC tends to be difficult to use when the tabs are closed.
There is a full backstage crossover to all points.
The Projector screen is situated on the mid stage quadralite truss (6×3.5 Metre)
The tech booth is at the rear of the auditorium 6 metres from the front of the stage & 4 metres high. Entry to the booth is through the bar.
Basic Auditorium measerments can be found on:
*Appendix Map 4.
APPENDIX 1 – MAP (LOADING & PARKING)
Unloading and Parking
When you drive down into Lyme itself you will drive down Charmouth road and into Church St.
Church Street is quite a short road, so you will quickly come up on a set of traffic lights.
To the left of these lights is a road called LONG ENTRY. This is the road leading to the rear of the theatre.
Drive up the short road, there is a barrier at the top. This will be opened for your arrival.
Drive past this, and about 15 yards beyond you will see a set of steps. Stop here, you are at the rear of the theatre.
We will ensure the back doors are open, and you can unload here.
If there are other cars, we recommend that you park them in the long stay car park in Charmouth road, Getting in to the front of the theatre is through a narrow archway, and difficult for any but small cars. There is also no parking facilities there.
APPENDIX 2 – MAP ( LIGHTING GRID – BLANK)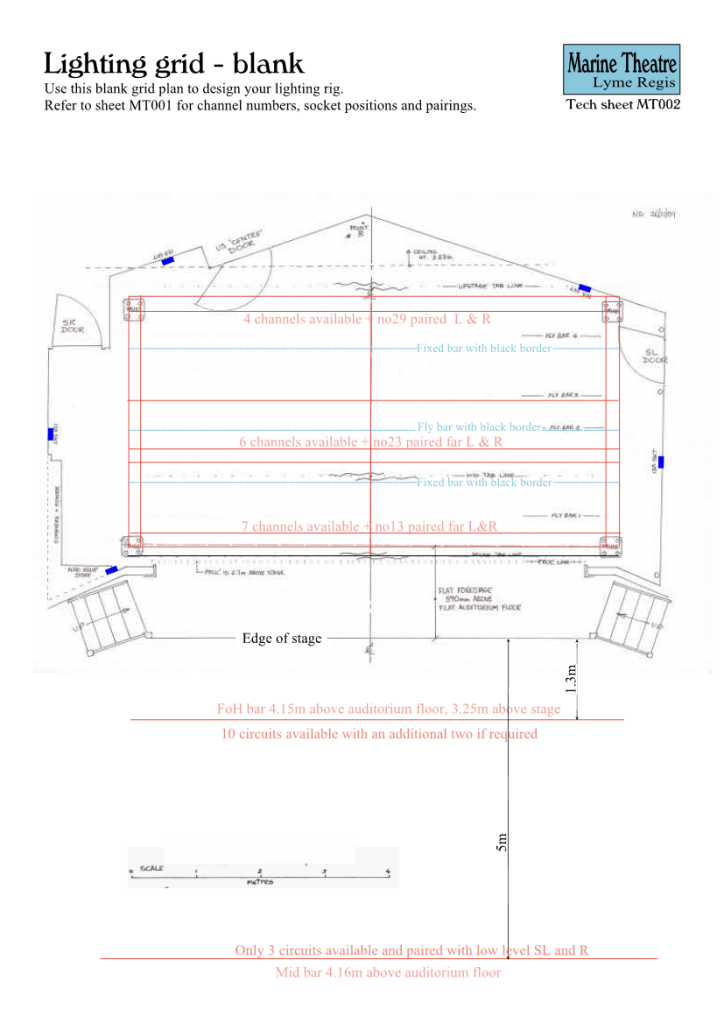 APPENDIX 3 MAP ( LIGHTING GRID – & CHANNELS)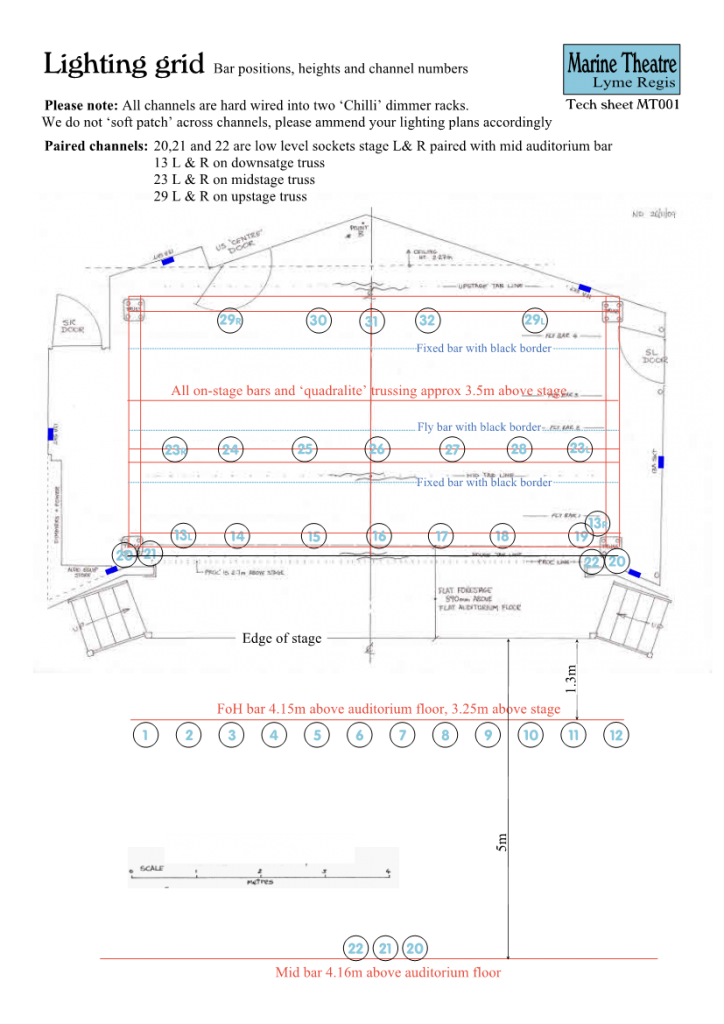 APPENDIX MAP 4 – AUDITORIUM