Right by the sea on the Dorset coast, the Marine Theatre is the most beautiful licensed wedding venue in Lyme Regis.
Many people remember the historic theatre as a unique Dorset wedding venue with breath-taking sea views.
Wedding photos here always look amazing.
To arrange a viewing, check availability, or make any enquiry please email office@marinetheatre.com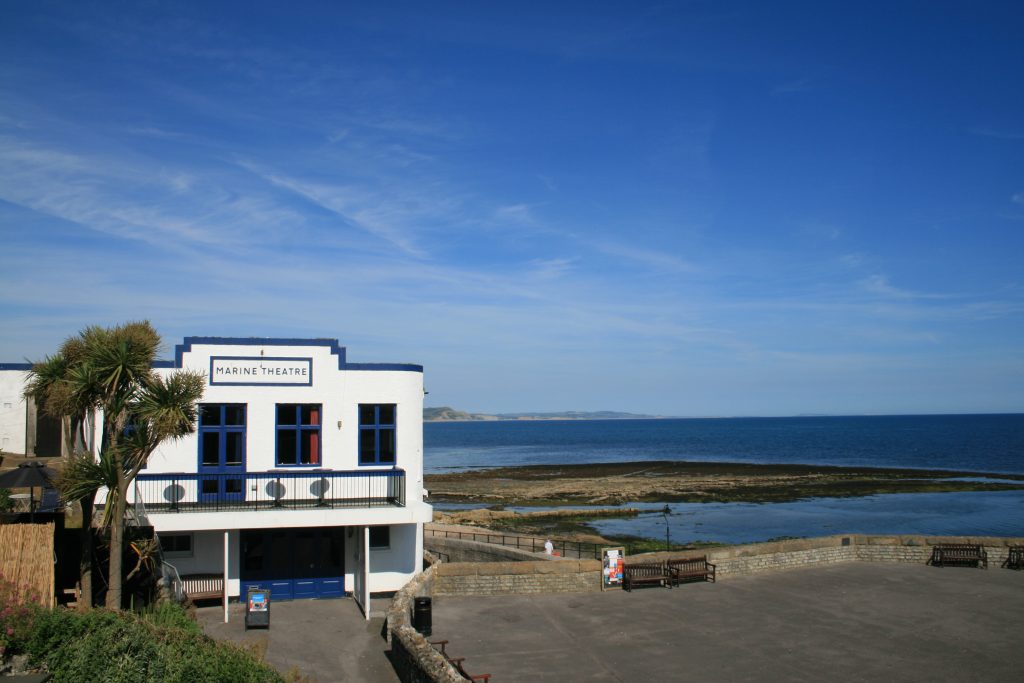 As well as marriage ceremonies, couples hold their wedding receptions here at our 125 year old theatre. The capacity is up to 220 seated, 124 eating, and 394 standing.
Our balcony bar has views of 95 miles of Jurassic coastline—the Marine is part of a UNESCO World Heritage Site.
The seats are not fixed, so the space is very adaptable for different parts of the day.
We can help with the food, drink, music, places to stay, and show you how to get here.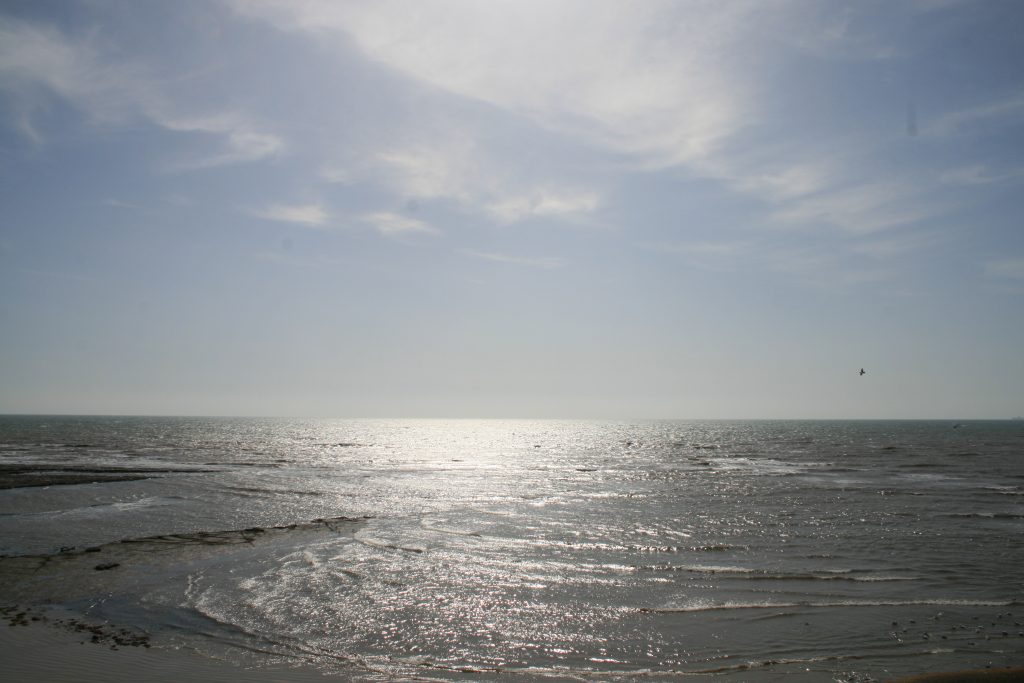 Prices
£4,495 – Wedding Reception Hire
£4,995 – Wedding Reception and ceremony hire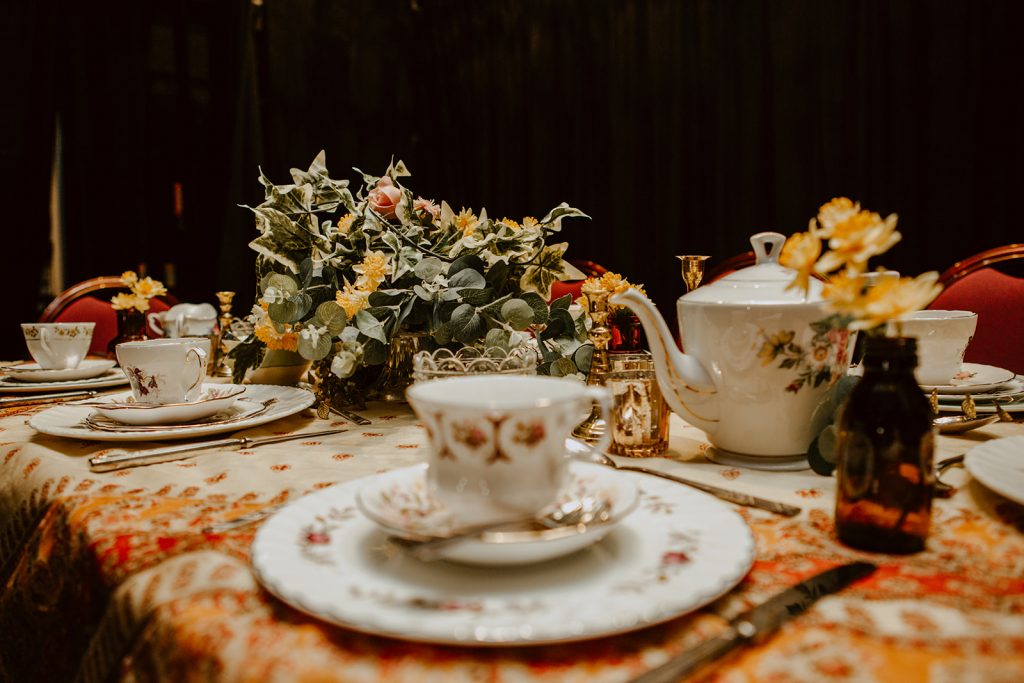 Wedding Venue Hire includes:
exclusive hire of the whole venue on the wedding day (9 A.M.—midnight.) including auditorium, stage, foyer, dressing rooms, two bars, and exterior forecourt
access to decorate the theatre
access after the wedding
exclusive use of the fully staffed bar on the day
a professional theatre technician to support throughout the wedding and reception (theatre lighting design and rig, sound, and technical set-up)
use of theatre equipment (chairs, tables, lighting, PA system, microphone, projector and screens, fairy lights, mirror ball, and more)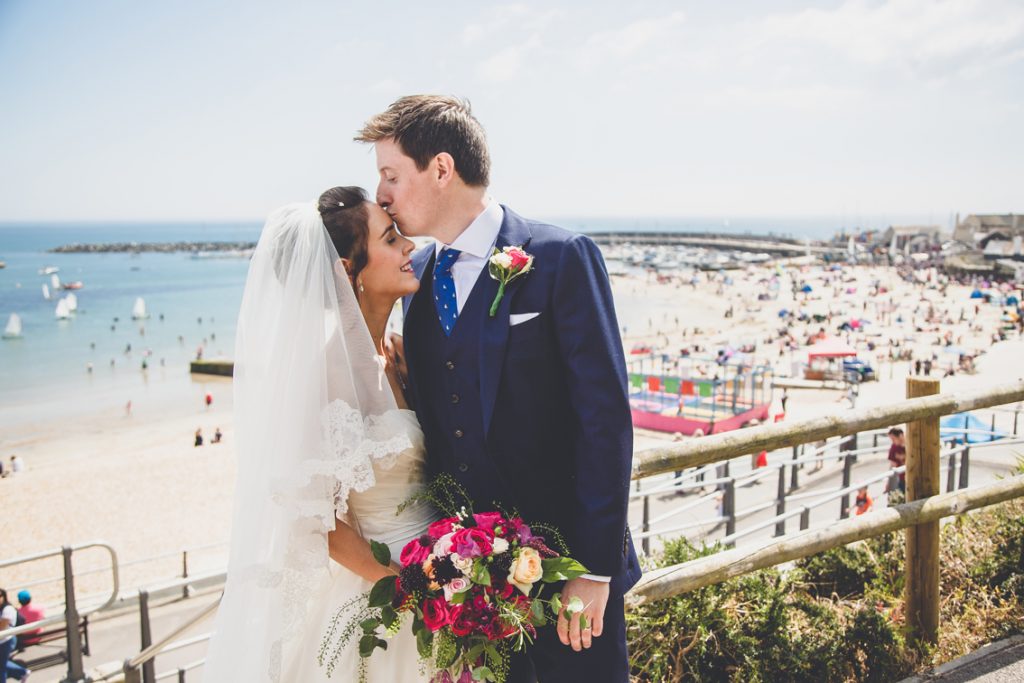 Our staff works with couples to give them the perfect day, with advice on all the important things. We have wedding partners for food, music, photography, and flowers.
Food and drink
We have trusted food partners that we have worked with on many weddings.
Please view our food partners here.
Please view our wedding drink selection here. All wedding drinks are purchased from the Marine, corkage is not offered.
The space
On the ground floor, the auditorium seats 124 wedding guests for food. There is room for 394 people standing. Please see our wedding table layout options here. The stage provides an excellent space for speeches—as well as live music. With a wooden semi-sprung floor, the space is ideal for dancing at wedding receptions. We provide technical and lighting assistance for speeches and music.
There are two dressing rooms, two bars, an outside forecourt, stage, and backstage areas.
For further information and to arrange a viewing, please give us a call on 01297 442 394 or email office@marinetheatre.com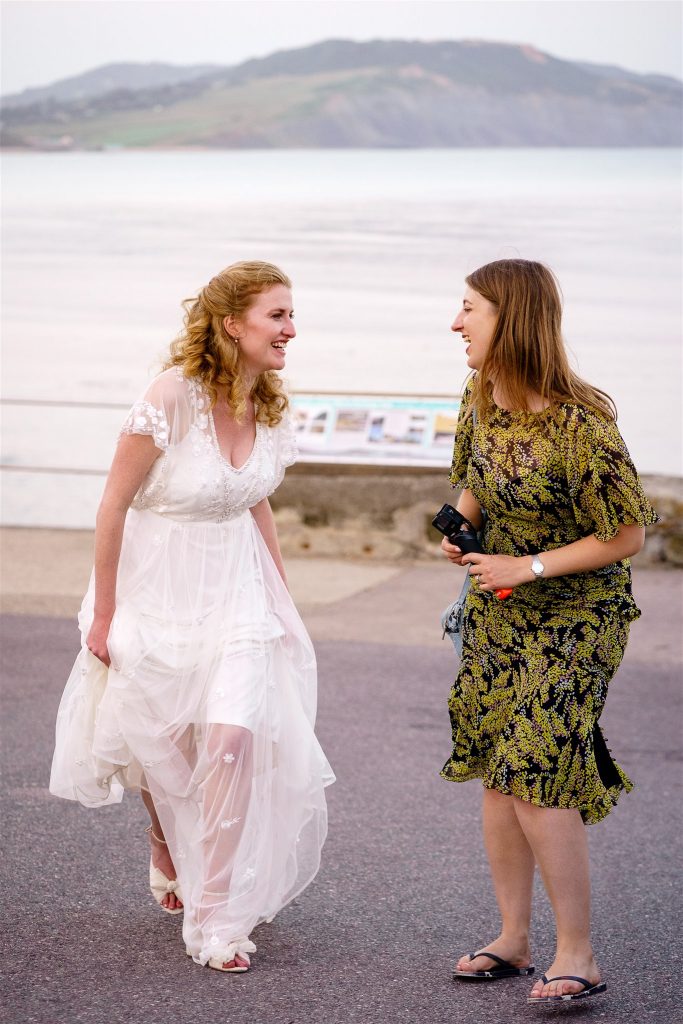 Wedding Photos – Catrina & Charlie – Lee Maxwell Photography
Lee is a Devon based wedding photographer who wants you to enjoy every second of your wedding day. No staging or interfering. Just fun. Including unlimited coverage. Ideal for couples who are looking to document the laughs in the morning to the crazy dance moves at night. I've been a wedding photographer in Devon for eight years & my focus is authenticity. Creating beautiful original wedding galleries for those loved up couples.
Find out more about Lee's photography here.