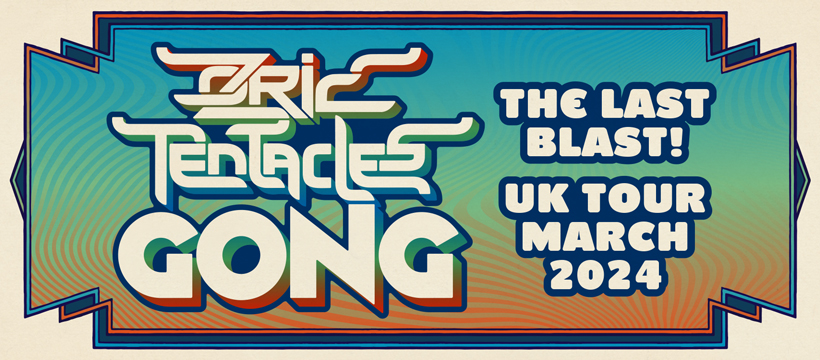 Gong
The ever-metamorphosing entity that is GONG launches, as ever, into unknown – and unknowing – territory with new tours for 2023 destined to be talked about, discussed, and argued over, up and down the land.
From its beginnings in a French commune in 1967, through the Virgin Records years, mismanagement, court cases, break-ups and re-joinings, deaths and rebirths – there has always been a continuous thread of beautiful, dangerous and extraordinary music.
The current holders of the flame have come together over the last eight years; sinuous bass player Dave Sturt joined just as the album 2032 was shown to the world; Ian East (Sax, Flute) was the next to blow in through the portal; Fabio Golfetti brought his guitars from Brazil (after working with Daevid Allen for many years); Kavus Torabi (lead vox and guitars) appeared to Daevid in a vision; Cheb Nettles (drums) just sort of turned up.
In 2015, Daevid Allen passed away. His influence and legacy were honoured on the band's subsequent album, Rejoice! I'm Dead! (2016). In recent years GONG has performed with the Steve Hillage Band (himself a former member of the 1970s GONG line-up) and released the critically acclaimed album The Universe Also Collapses (2019) and a stunning new live album Pulsing Signals (2022) captures the band at a creative peak with tracks drawn from their 2019 tour.
Ozric Tentacles
The band originally included guitarist Ed Wynne, drummer Nick 'Tig' Van Gelder, keyboard player Joie Hinton, bassist Roly Wynne (Ed's brother), and second guitarist Gavin Griffiths (who left the group in 1984). The Ozrics played in clubs around London, releasing six cassette-only albums beginning with 1984's Erpsongs. (All six were later collected on the Vitamin Enhanced box set, despite a threatened lawsuit from the Kellogg's cereal company for questionable artwork.) In 1987, Merv Pepler replaced Van Gelder, while synthesizer player Steve Everett was added.
Ozric Tentacles' first major release, the 1990 album Erpland, foreshadowed the crusty movement, the British parallel to America's hippie movement of the '60s. Crusties borrowed the hippies' organic dress plus the cosmic thinking of new agers, and spent most of their time traveling around England to various festivals and outdoor gatherings. The movement fit in perfectly with bands like Ozric Tentacles and the Levellers, and the Ozric's 1991 album Strangeitude became the band's biggest seller yet, occasioning a U.S. contract with Capitol. After the British-only Afterswish and Live Underslunky, 1993's Jurassic Shift — featuring flutist John Egan, who would become known for his on-stage trance-dancing during the group's live performances, and new bassist Zia Geelani in addition to original bassist Roly Wynne, who departed the band in 1992 – hit number 11 on the British charts, quite a feat for a self-produced album released on the Ozric's own Dovetail label. The album was released in America by IRS Records, as was 1994's Arborescence. Neither translated well with American audiences – despite the band's first U.S. tour in 1994 – and Hinton and Pepler left the group that year to devote their energies to their dance side project, Eat Static, releasing several albums on Planet Dog Records.