Monmouth: The West Country Rebellion July 2017
Following the success of the award-winning community play The Tempest of Lyme in 2016, the Marine commissioned a brand new community play written by our patron Andrew Rattenbury (Tempest of Lyme, Doc Martin, The Golden Hour) telling the story of the Monmouth Rebellion which began in Lyme in 1685. A cast and crew of over 50 locals of all ages and abilities performed the play on Lyme Regis desfront and in the Marine Theatre in July 2017.
The production will tour Dorset, Devon and Somerset in Autumn 2017:
Wednesday 13 September – Regal Theatre, Minehead
Thurs 14 September – Phoenix, Exeter
Fri 15 September – Bridport Arts Centre
Fri 29 September – Shelley Theatre, Bournemouth
Sun 8 October – Dorchester Arts Centre
Sat 11 November – Beehive Honiton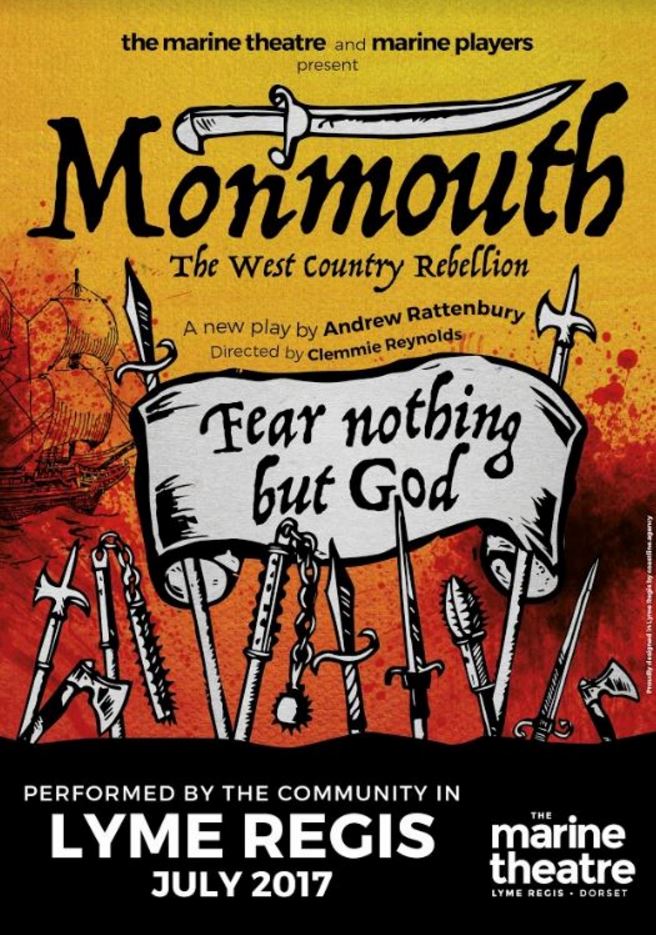 Reviews for Monmouth at Marine Theatre, July 2017:
"The excitement and terror of these times…are vividly brought to life by an exceptional company" – The Fine Times Recorder
Full review: http://www.theftr.co.uk/monmouth-the-west-country-rebellion-at-lyme-regis/
"Balanced and cleverly paced to ensure that what could have been a stodgy dollop of history was extremely lively and fun, while not in any way diminishing the seriousness of the subject matter… another fine achievement from the pen of Andrew Rattenbury, and the direction of Clemmie Reynolds." – Bridport Review ****
Full review: http://bridportreview.com/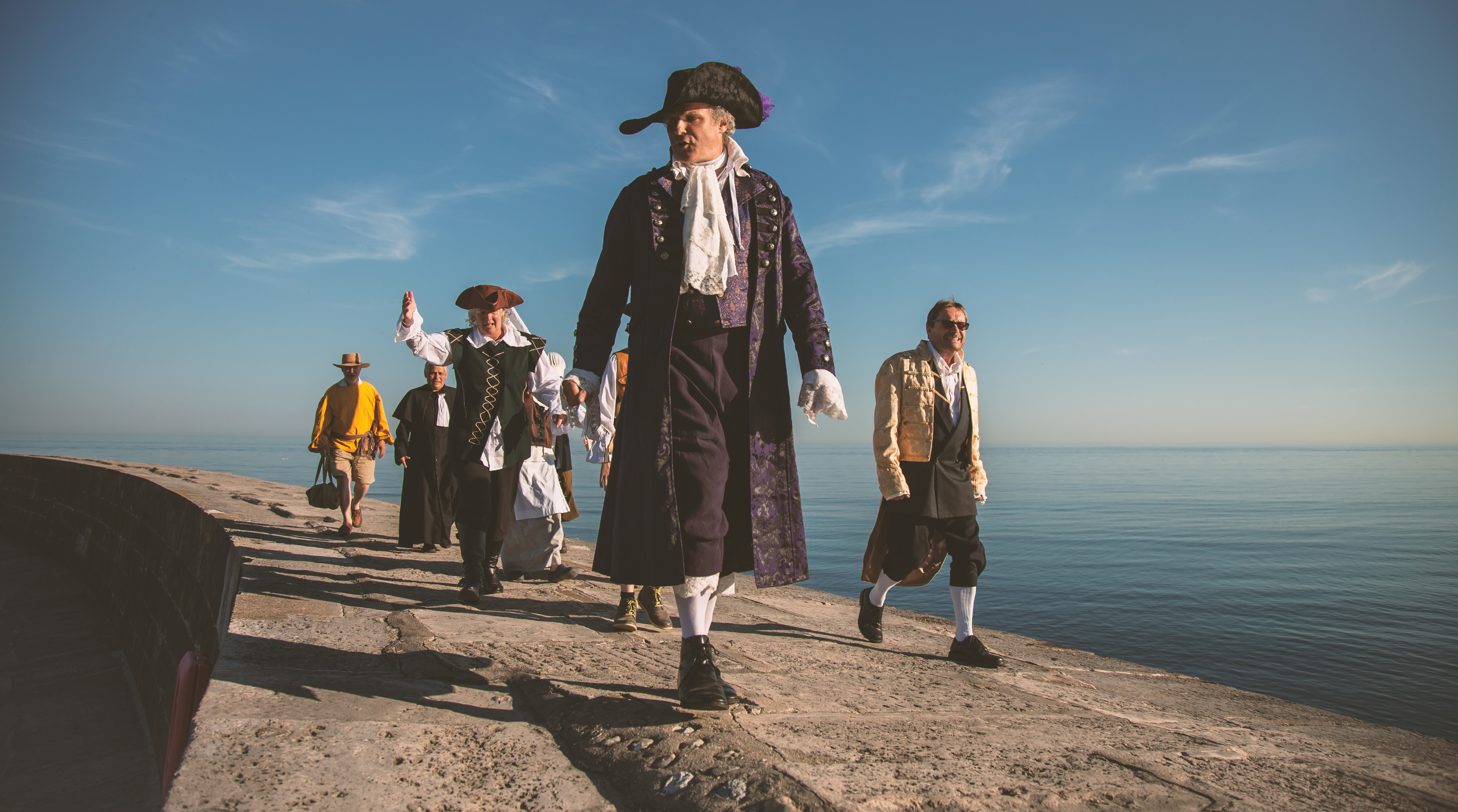 Simon Emmett Photography
Audience Feedback
"Fantastic evening – I didn't know that story at all – loved the music and performances"
"A brilliant performance- so well written. Loved the build up on the promenade!"
"An ambitious and well performed play – congratulations to all involved"
"Thoroughly enjoyable performance – community theatre is a vital part of the town"
"Well done! What a super history lesson – Thank you!"
"A brilliant rendition of this historical tale – I could hear every word, I could follow each twist and turn of the story. Fantastic writing, excellent performing, great music – MARVELLOUS SHOW! Thank you (Sudhi) ps. Wonderful effects eg. Rain!
"A great entertaining show. THANK YOU! An enlightening history lesson and great writing , music and acting. Wonderful enthusiasm!"
"Thoroughly enjoyed the production, great fun and informative. Well done!"
"Very enjoyable evening, excellent production!"
Absolutely amazing, amazing cast and performance
"Fabulous fun evening – from ship to shore!! Great way to tell local history…Monmouth beach will never be quite the same…"
"A fabulous production – humour, moving, brilliantly acted. Would love to see more. Great sing-song too." Roisin Duffy
ABOUT THE SHOW..
TIMINGS
6.45pm – Pre-play procession from promenade at the sandy beach to the theatre for 7pm
7pm – Doors
7.30pm – Play begins inside the theatre
Running time: 2 hours approx. (with interval)
DATES
Thursday 6th July 2017
Friday 7th July 2017
Saturday 8th July 2017 (Gala Night)
Thursday 13th July 2017
Friday 14th July 2017
Saturday 15th July 2017
TICKETS
Tickets are £15 full price / £10 concessions and are available to buy HERE or you can purchase tickets from our box office, Lyme Regis Tourist Information Centre, by calling 01297 442138 or visiting them in person. Their current opening hours are Monday – Saturday 10-5 and Sundays 10-4.
Please note that a 10% booking fee applies online and via the Tourist Info Centre
On Saturday 8th July there will be a Gala event complete with a red carpet, free glass of prosecco, a raffle drawn by our Marine Theatre patrons, writer Andrew Rattenbury and Oliver Ford Davies and 'Monmouth' cast (prizes include an 'extra'/ role on set of Doc Martin in Cornwall) plus live music by arch-lutist Kevin Avebury, signed programmes and a chance to meet the cast and crew! Tickets are £25 per person and are also available to buy at the above locations.
MONMOUTH BLOG
To keep up to date with all things 'Monmouth', including rehearsal progress, interviews with the cast and crew, historical tit bits and more, follow our blog HERE
'Monmouth' is proudly sponsored by: